Vinyl labels:
Acorn Print has available an extensive range of vinyls.  These, like our papers, vary from plain white to gold and silver metallics. Once again they are mostly available with matte and gloss label finishes and also a full range of label adhesives. Our sheets of permanent printed vinyl labels have excellent adhesion, even to lubricant, oil and chemical containers and are UV resistant so will not fade when exposed to daylight. We print for many lubricant, chemical and oil companies all around the world.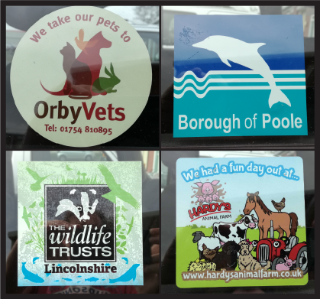 Window Stickers and wall labels:
We also offer printed static cling vinyl window and wall stickers on sheets, which are removable and replaceable time and time again without leaving residue. Our custom vinyl labels are waterproof and extremely durable so are ideal for outdoor use or where they will come into contact with moisture, direct sunlight or abrasion.
Clear vinyl labels:
Many of our customers use clear vinyl labels. These are also hard-wearing and durable, and because they are transparent, can be used as 'invisible' seals, ideal for packaging and gift-wrapping, which can also be printed if required.
Cut vinyl lettering:
Cut vinyl lettering and cut out shapes are an option for vehicles, walls, signage, windows and any surface where you would like to retain the background colour but add greater impact to your company logo with a contrasting colour scheme such as the livery on the Urban Street Kitchen van we supplied for our friends in East London.  Our printed or plain vinyl signs can also be backlit for impact such as as the drinks chiller cabinet sign above.
Etched glass vinyl:
Etched glass self-adhesive vinyl is a great solution for privacy, branding, or as a safety feature to prevent accidents on patio doors or large windows. It is translucent so doesn't block light and has the appearance of frosted or etched glass when stuck on plain glass.  Like the white and clear vinyl, It can be cut to any shape desired and include letters, numbers, logos and complex shapes like the photograph opposite.